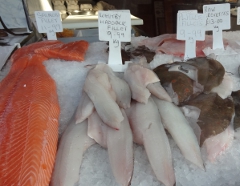 Fresh Fish Since 1906!
R Ward opened a fishmongers shop at 98 Parliament Road, on the corner of Cadogan Street, in 1906 when the property was first built. It remained in the Ward family until 2005 when the business was taken over by Paul and Gillian Harrison. In 2011, the shop underwent a complete refit and emerged with a new name - Catch Of The Day!

All our fish and seafood are freshly caught and bought from local North East fishing ports, with the vast majority coming from Whitby.

We are very proud to hold a 5-star Tees Valley Food Hygiene Award.